New investment or sale of your machine tools?
The market has grown, and many industries and factories are investing again.

CARLSTAD MACHINETOOLS has been pleased, to offer a variety of machine tools and sheet metal forming machinery to major companies throughout the world. And this we are happy about. We have also made modernization of large machine tools, numerous repairs and sharpening guides.
Should you invest in machine tools, new or used? Welcome to contact us and we'll help you up. We also help with selling your old machine tools if you wish.

HUGE VERTICAL LATHE MONSTER SIZE, FOR SALE!!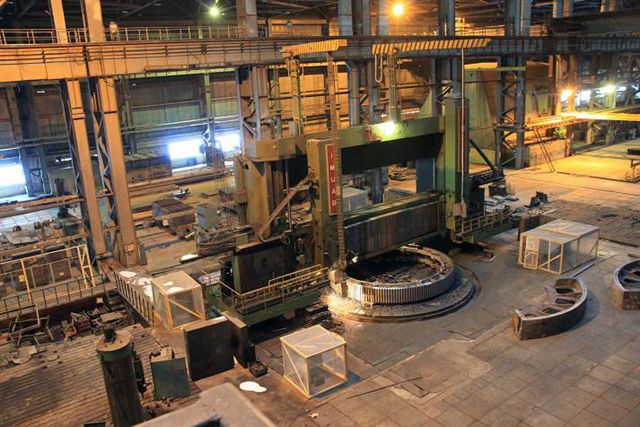 THE BEAST FROM EAST, is finally for sale.
Manufacturer: IMUAB (former Titan Masini Grele)
Model: SC 125/160D
C and Y axis and also with milling function!
Siemens CNC
Max. workpiece diameter: 16000 mm
Table diameter: 10000 mm
Max. workpiece height: 5500 mm
Max. workpiece weight: 400 000 kg
Milling spindle rotation: 1,0-630 t/min
Spindle diameter: 225 mm
Taper: ISO50
Linear encoder for axis: X, Z, V, W
Angle encoder for axis: C
Controlled axis V, W, C
Linear interpolation: G 01
Circular interpolation: G 02, G 03
Source voltage: / AC 380/50 V/Hz
Machine dimensions:
length: 26154 mm
width: 17514 mm
height above floor level: 15300 mm
height below floor level: 4340 mm
Machine weight: 850 000 Kg
Good condition.

If you are interested, please contact us,
but only if you are serious and have the money and power to buy this machine.

!!! WANTED !!! WANTED !!! WANTED !!!
Bedtype milling machines.
Heidenhain TNC 426 or newer.
X 3000mm to X5000mm
Hurong millinhead 2,5 or 1 degrees.
Automatic toolchanger.
Year 2000 or newer.

Vertical lathes with C-axis and live tool.
Turning diameters 2500mm to 3500mm.
C-axis and live tool / milling function.
Automatic toolchanger.
Siemens 840D or Fanuc.
YOM 2000 or newer.

CARLSTAD MACHINETOOLS also perform troubleshooting, repair, service and maintenance. Our competencies are in the following control systems, Siemens, Heidenhain, Num and Fagor. We also make alignment of machines with laser and also detailed documented laser measurement.
CARLSTAD MACHINETOOLS, has 24-hour on-call every day, every year.
Be one of a number and sign a beneficial service agreement with us that include laser measurement.
We have over 30 years experience in machine tools.

To get to CARLSTAD MACHINETOOLS website click here.