New investment or sale of your machine tools?
The market has grown up and many industries investing a lot again.

CARLSTAD MACHINETOOLS has been pleased, to offer a variety of machine tools to major companies throughout the world. And this we are happy about. We have also made modernization of large machine tools, numerous repairs and regrinding of guideways.
Are you goind to invest in machine tools, new or used? Welcome to contact us and we'll help you.

TOP-TURN CNC-S80CY x 6000 for sale.
Hot sale, with C-axis, Y-axis and live tool.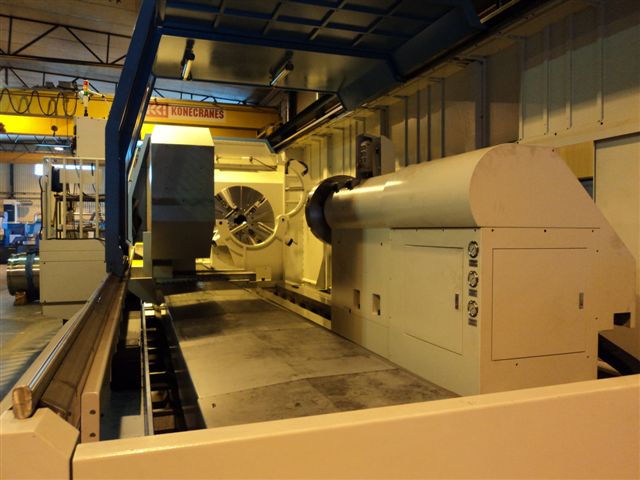 CNC lathe 2000x6000 with C-axis, Y-axis and live tool.
Brand TOP-TURN
Model CNC-S80CY x 6000
YOM 2010
Very good condition
Spindle Hours 900
Swing over bed 2000 mm
Max. Turning 1700 mm
Swing over cross slide 1550 mm
4-backs chuck 1270 mm
X-axis rörelse 1000 mm
Z-axis 6200 mm
C-axis
Y-axis +/- 130 mm
Distance between centers 6000 mm
Spindle speed 1 - 400 rpm
Spindel nose A2 -20
Spindel bore 230 mm
Gearbox 4 stage
Spindle Motor 60/75 kW
Tool station 12x VDI 80 TBMA 400
Milling spindle power 8 kW
Milling spindle taper ISO 50
Max. drilling diameter with live tool 42 mm
Max. tapping tool M24
Control unit Fanuc 18iTB
Manual Guide
Handwheel
Manual toolpresetter
Chipconveyer

Included options:
4-jaws faceplate diameter 1800 mm
Boring bar holder 250 mm
Boring bar sleeve 250/80 mm
Boring bar sleeve 250/150 mm
Cooly rest (2 point supp. per side) 500-1200 mm
Steady rest (C type) 700-1050 mm
Steady rest 30-350 mm
Steady rest 350-750 mm
Many toolholders included
Machine Weight 47500 Kg

The machine can be test run
Deliverytime immidately
Price on request

CARLSTAD MACHINETOOLS also perform troubleshooting, repair, service and maintenance. Our competencies are in the following control systems, Siemens, Heidenhain, Num and Fagor. We also make alignment of machines with laser and also detailed documented laser measurement.
CARLSTAD MACHINETOOLS, has 24-hour on-call every day, every year.
Be one of a number and sign a beneficial service agreement with us that include laser measurement.
We have over 30 years experience in machine tools.

To get to CARLSTAD MACHINETOOLS website click here.