New investment or sale of your machine tools?
The market has grown up and many industries investing a lot again.

CARLSTAD MACHINETOOLS has been pleased, to offer a variety of machine tools to major companies throughout the world. And this we are happy about. We have also made modernization of large machine tools, numerous repairs and regrinding of guideways.
Are you goind to invest in machine tools, new or used? Welcome to contact us and we'll help you.

YOU-JI CNC vertical lathe with c-axis and live milling.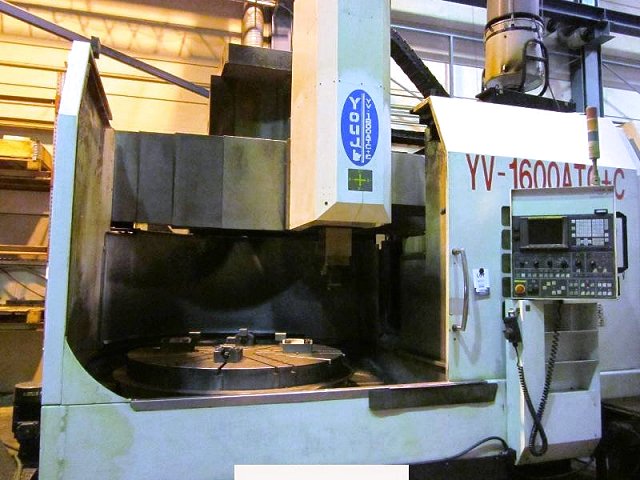 CNC vertical lathe with c-axis and live milling.
Manufactor: YOU-JI.
Model: vy-1600atc+c.
New: 2003.
Fanuc 18T CNC control.
Table diameter: 1575 mm.
Maxamum swing diameter: 2000 mm.
Maximum turning diameter: 1800 mm.
Maximum turning height: 1295 mm.
Table speed (2 ranges) 1 to 62 & 62 to 250 rpm.
Live spindle speed (2 ranges) 2 to 1,200 & 1,200 to 2,400 rpm.
Automatic tool changer for 16 positions.
Type of tool shank: BT-50.
Main table motor: 60 hp.
Live spindle motor: 15 hp.
Floor dimensions: 4700 mm x 5510 mm x 5310 mm.
Machine weight: 25 ton.

Equipped with:
ZF dual speed gearbox.
Coolantr through spindle.
Heavy duty box way construction.
Chip conveyor.
Lots of tooling.
Full C-axis table.

Machine is located in Scandinavia.
Price on request.

CARLSTAD MACHINETOOLS also perform troubleshooting, repair, service and maintenance. Our competencies are in the following control systems, Siemens, Heidenhain, Num and Fagor. We also make alignment of machines with laser and also detailed documented laser measurement.
CARLSTAD MACHINETOOLS, has 24-hour on-call every day, every year.
Be one of a number and sign a beneficial service agreement with us that include laser measurement.
We have over 30 years experience in machine tools.

To get to CARLSTAD MACHINETOOLS website click here.